Thanks to everyone who donated in our recent fund drive!
We're throwing our Listener Appreciation Party at Neighbours, and we'd love to see you there!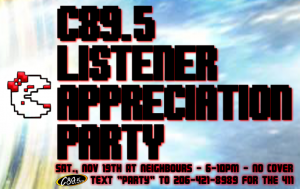 -
Date:
Sat., 19 Nov. 2016
Time:
6pm - 10pm (Early Show!)
Price & Info:
Free! Donations accepted at the door. All ages; additional 21+ section on the balcony.
Location:
Neighbours Nightclub, 1509 Broadway, Seattle, WA (on Capitol Hill at Pike & Broadway, entrance in the alley)
Lineup:
Steve Kroeger
Skye Holland
Santa Clara
Richard J Dalton
DJ Kryspin
Brandon Lentz
DJ Polo
DJ Luis
...and we're working on some more leads!
See you there!