About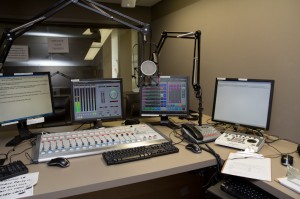 C
-89.5 has been Seattle's Home for Dance for over 45 years, reaching a new generation of radio listeners with energizing music and public affairs programming.
The station is owned by Seattle Public Schools and operated by professional staff with assistance from students of Nathan Hale High School as part of the electronic media course. Students gain practical experience in production, programming, on-air presentation, and music selection. Some programs are hosted by alumni and community volunteers. The station's extensive coverage ensures service to listeners throughout Puget Sound. In fact, C89-5 serves over 165,000+ weekly listeners (most of which are adults) and is supported mainly by listener members and area businesses who understand the importance of public radio to the community.
Through our website, C895.org, we reach a large and diverse audience from all over the world. C89-5 Worldwide is recognized as a leader in dance music, monitored by BDS and MediaBase, and is one of eight stations that factor into the Billboard Dance chart.
We have won numerous awards for being an influential radio station on the cutting-edge of music as well as a premier high school broadcast facility. We were named "Best Dance Station" and listed in Billboard's Top 40 of Top 40, a testament to our staff and student's hard work and dedication to C89-5 and the genre of dance music.
Our Local Content and Services Report is available here.
Our Staff
Staff
June Fox - General Manager
Jon McDaniel - Program/Music Director
Richard J. Dalton - Operations Manager
Emily Marley - Business Manager
Michael J. Hayden - Fundraising Manager
Ben Wyatt - Sponsorship Sales Manager
Lane Shulz - Traffic Manager
Drew Bailey - Morning Show Host
Buzz Anderson - Chief Engineer
Brian Babinec - Teacher
Harmony Soleil - Teacher
Taco2 - Webmaster
Volunteers
Paul Allenikoff - On The Edge
Seth Bolin - Cafe Chill
Richard Dalton - Friday Resident DJ for Drive@5
Justin Dohman - The Lockdown
Keano - The Bassment
Kryspin - Tuesday Resident DJ for Drive@5 Mix
Matt - Planet Dance
Mel McCoy - Planet Dance
DJ Polo - Carnaval Mix
DJ SAINt - On The Edge
Harmony Soleil - Thursday Resident DJ for Drive@5 Mix, Weekend Windup, Trap & Friends, The EDM Ten
Randy Schlager - Powermix
DJ Tamm - Nocturnal Transmission
Timothy - Electrobox
Tony Rocky Horror - The Afterparty, Shortwave, 60 Watts
Trent Von - Tuesday Night, Save The Wave, Electrobox
Jerry Wang - Monday Resident DJ for Drive@5 Mix
Adrian Woods - The Vortex
Woolly - Open House
Gabriel Zus - Wednesday Resident DJ for Drive@5, Test Spin, The EDM Ten
History
1960s

DEC, 1969: KNHC goes on the air at 100 miliwatts at 1210 AM.

1970s

JAN, 1971: KNHC goes on the air at 10 watts at 89.5 FM, covering about a 5 mile cirle in the north end of Seattle.
SEP, 1972: Power is increased to 320 watts with a directional antenna.
JAN, 1973: Station goes to stereo operations.
NOV, 1974: Power is increased to 1,500 watts directional.
DEC, 1977: HEW/NTIA grant creates a new studio and sister studio at Cleveland High. Mass Communications Magnet is begun.

1980s

OCT, 1981: Power is increased to 3 kW non-directional.
DEC, 1983: Jackstraw Memorial Foundation's KRAB files with the FCC to force the District to share the frequency. The District chooses to fight the takeover attempt.
APR, 1984: KNHC enters the satellite era installing a downlink to receive the Sheridan Broadcasting Network.
JUL, 1986: A BE 3.5 kW transmitter is installed extending C89.5's power to 10 kW.
FEB, 1986: The FCC designates the KRAB case to full scale federal hearing.
AUG, 1987: Unique Jampro 6 bay state-of-the-art antenna is installed minimizing downward signal.
JUN, 1987: Microwave studio transmitter link is installed.
FEB, 1987: Associated Press Newspower satellite newsfeed is installed.
MAY, 1988: Federal courts rule in favor of KNHC.
JAN, 1989: KNHC prevails over a federal appeal by Jackstraw.

1990s

SEP, 1990: Magnet grant is awarded to enhance the radio and TV program.
JUN, 1990: QEI transmitter is installed extending operations to 30 kW.
MAR, 1991: Radio facility is renovated; second production studio, engineering room, and offices are built.
DEC, 1994: Articulation agreement is worked out between Boise State University and KNHC to place graduates seamlessly into higher ed. Jobs, college credits and scholarships are made available. Two students attend.
SEP, 1995: Began the digital evolution of the station by adding three digital audio editing workstations.
JAN, 1997: Began operation of an entirely digital music stream from a server and workstations in every studio.
APR, 1998: Station launches interactive website designed and written by webmaster, Nasir Aziz at www.c895fm.com, and made available to the public for the first time.

2000s

JAN, 2000: Moved to MiniDisc recording elements and programs, making the station completely tapeless and completing the studio transition to all digital.
AUG, 2000: Completely remodeled and rewired all three studios with new audio consoles and furniture.
JUN, 2001: Received FCC construction permit to build new transmission facility on Cougar Mountain.
JUL, 2002: Flipped the switch from Wedgwood hill to Cougar Mountain, significantly extending the reach, especially to the North, and filling in some of the dead spots.
OCT, 2003: KNHC named "Best Of New York" high school radio stations by the Village Voice, thanks to its Internet audio stream.
MAR, 2004: becomes the first non-commercial station in the United States to be a monitored reporter when they join the Billboard Magazine Dance Radio Airplay panel.
AUG, 2004: Upgraded digital music system, installing new Windows workstations in all studios.
NOV, 2004: Live titles of songs playing are added to the C-89.5 website and streaming audio.
MAR, 2005: C-89.5 Relaunches as "C-89.5 Worldwide" to highlight its global presence.
DEC, 2007: A 128k SHOUTcast stream is added and is underwritten by Spectrum Networks LLC.
JAN, 2008: KNHC installed a new Nautel Transmitter on Cougar Mountain and upgraded to HD radio.
NOV, 2009: KNHC moves into brand-new digital studios and classroom at Nathan Hale.

2010s

NOV, 2011: KNHC launches a brand new website at c895.org
JUL, 2016: Station begins archiving all programs through Radio Free America
AUG 2016: Station upgrades music selection software to Selector
NOV, 2016: Station converts automation software to Zetta
DEC, 2016: Station begins producing "Live Exclusive" artist segments
JUN, 2017: Station begins producing "Dramatic Readings of Dance Music by Drag Queens"
AUG, 2017: Station chooses new logo
JAN, 2018: Station begins producing "8-bit Work Break"
FEB, 2018: Station begins national distribution of "Cafe Chill"
In The News
Univision 51- "C89.5 & Carnaval Mix
KOMO-TV - "Seattle Refined: C89.5 FM, not your average high school class"
Seattle Weekly- "C89 Turns 40"
Reported by ERIKA HOBART, published February 1st, 2011
In August 2008, a little-known singer with the given name Stefani Germanotta confidently strode though the halls of Nathan Hale High School wearing nothing but a red, skintight leotard, black leather boots, and sunglasses. Months before she'd ascend to the top of the pop-music food chain, Lady Gaga was merely the latest in a long line of extravagantly dressed dance-superstar wannabes with a hot single to peddle to the students of Nathan Hale, aka Hitmaker High.
"At the time, it was normal," says senior Madeline Presland, who walked in on Gaga during warm-ups before she performed in the school's cramped, sweaty auditorium. "But now, it just seems nuts."
Such is life at the Lake City school whose in-house radio station, C89.5 FM, has become a juggernaut in the world of dance pop.
The premise seems plucked from a TV pitch meeting: Saved by the Bell meets WKRP in Cincinnati. But the numbers suggest that C89.5—one teacher's side project that's celebrating its 40th anniversary this year—is more a broadcasting force than just a room full of plucky teens.
Each week the station reaches more than 160,000 listeners around the world. It's one of only six whose playlists make up the Billboard Dance Chart, and according to Cary Vance, vice president of a New York–based company that markets bands to radio stations, it's regularly courted by major labels to get their clients' songs in heavy rotation. "As far as high-school stations go, C89.5 is the only one in the country with that much credibility," she says.
Ambitions inside most high-school audio-visual rooms don't usually extend much beyond reciting the day's lunch menu. So how did C89.5 turn into such an influential station? By embracing the guilty pleasure.
Like many schemes hatched by teachers, C89.5 founder Larry Adams says the station originally began as a way to trick students into learning. Now retired, Adams first proposed the idea of a 100-milliwatt transmitter as a non-textbook way to inspire more enthusiasm in his electronics classes.
"It was hard enough to get these kids out of bed in the morning," says Adams. "But the idea of being on the radio got them excited."
Nathan Hale's administration was less enthused. There wasn't money in the budget to support a station, and Adams says the most common response he got when people heard he wanted to put high-schoolers on the air was "How many lawyers do you have?'"
Undeterred, Adams looked for funding elsewhere, and piqued enough curiosity from local businesses that he was able to raise $4,000 for a license. In January 1971, Communications 89.5 FM made its debut, operating under the call letters KNHC and covering only a 2.5-mile radius in Seattle's north end.
The station's rules were simple: no politics, no religion, and no sex. As long as students adhered to those three commandments, they could play whatever records they liked—a free-for-all policy that C89.5's current general manager Gregg Neilson, then an assistant teacher, says led to a catalogue that was all over the map.
"We were playing Wayne Newton during the day, Aretha Franklin at night, and classical music on the weekends," says Neilson. "The students didn't care if anyone actually tuned in, as long as they had a good time."
By the late 1970s, Nathan Hale's staff and students agreed the station needed a more cohesive format. But they struggled to settle on a genre that would appeal to the diverse North Seattle demographic, not to mention a school full of finicky teens. Then came Grease.
"Nobody would admit to it as their favorite thing," says Neilson of the Travolta-as-Zuko musical. "But they would admit it was their second-favorite thing."
C89.5 now had a format, and a calling. While the rest of the world would continue to toe-tap to "Summer Nights" in private while publicly claiming they dug only Zeppelin tunes, the station run by kids not only admitted to liking the catchiest songs, they also played them until others had no choice but to sing along.
"The process here is much different than it is for our peers playing pop music," says operations manager and teacher Richard Dalton. "We don't need approval to add a record to our playlist. We just have to hear the students say, 'Hey, this sounds cool!' "
That play-whatever-we-like attitude has served C89.5 well. By the mid-'80s, its wattage had increased a thousandfold. In the '90s, it leapt ahead of the curve by embracing an all-digital stream. And as C89.5 unapologetically continued to blast synth- and bass-heavy tunes, the station gained even more traction. In 2004, Billboard made it the first noncommercial station in the country to contribute to its dance rankings. And after decades spent educating teens on the finer points of producing and broadcasting, C89.5 can now boast of alumni in studios all over Seattle, from on-air veteran Mike West, formerly of alt-rock favorite KMTT, to hip-hop station KUBE's influential program director Eric Powers.
"People ask me if I went to college to do this," says Powers. "I say no. I went through four years of training at Nathan Hale High School."
Today, C89.5's success can be seen in its recently renovated headquarters, which feature $1 million worth of equipment, including five recording studios and a performance room. Meanwhile, its growing influence is visible on a white wall plastered with signed photos of rising artists who've made the pilgrimage: La Roux, a British electropop duo who went on to receive two Grammy Award nominations after their visit; Rihanna, then a teenager with only one hit, who has since sold more than 25 million albums worldwide; and the icon formerly known as Ms. Germanotta, whose glossy 8 x 10 is inscribed, "Thank you for spinning my record, babe."
With only four full-time employees, the station is powered by alumni volunteers and students, like the ones milling about on this freezing morning shortly after winter break. They arrived an hour before the first bell to deliver traffic and weather reports, write PSAs, and take listener requests. Enrolled in one of nine courses that cover everything from FCC rules to production basics, they will all eventually be introduced on-air, like the Gaga- interrupting Presland, who had her own morning show last summer and who still makes occasional appearances during the week.
"I kind of feel like a star sometimes," she says. "It's amazing to have listeners—real listeners who don't know you—calling in to say hi and request songs."
It's a far cry from the days when Larry Adams struggled to find a way to get his students interested in electronics—an enthusiasm gap best represented by a shaggy-haired senior named Henry Antupit, who talks a mile a minute and, appropriately, serves as the station's student promotions director.
"There are people who have been in this industry for 30 years, and I'm getting to do the same thing they are," he says. "And I'm only 17!"
Billboard - "Keeping Dance Music Alive in the U.S."
Reported by CHUCK TAYLOR, published March 11, 2005
Keeping a beat in the United states is nearly impossible these days, as an entire generation grows up without exposure to dance music on the radio. Even those few commercial outlets that tip the dance card are never a sure thing: In Miami just last month, Cox's WPYM (Party 93.1) was popped like a balloon and flipped to active rock. Sigh. If there is hope to be had, it squarely points to KNHC (C89.5), a non-commercial tucked away in a converted classroom at Nathan Hale High School in Seattle. The station has been in motion since 1971, evolving over the years into its current menu of house, power dance and electronica, giving love to such European household names as Anastacia, Jem and Eric Prydz. In 2003, the Village Voice named C89.5 the best high-school station in the nation, writing, "A station that broadcasts hi-NRG disco all day, punctuated by the occasional goth specialty show is automatically the best in New York, especially if it webcasts"--which the station does, at c895fm.com. PD Jon McDaniel, a 1987 graduate of Nathan Hale, says, "There's so much that is open to us, from Christina Aguilera to imports we see on the charts in Europe. We're run like a top 40, but we're a clear alternative. There's never a problem finding music that makes everybody feel good."
Seattle Times- "Airing on the side of success", "Nathan Hale's radio station has an ear for hits!"
Reported by Keiko Morris, Seattle Times staff reporter, published: Monday, July 21, 1997
Andrew Higgins, James Troy and Tim Green seem like typical teens, their lives revolving around Denny's and the latest pulsating, feel-good dance tunes.
But for many in the music industry, these students who help run the radio station at Seattle's Nathan Hale High School are the diviners of tomorrow's dance hits. They and others have helped make KNHC-FM (89.5)-known as C-89-a powerful voice influencing radio playlists across the nation. "They're well-respected in the industry," said Andy Shane, music director of New York's WKTU. "When record labels work me on songs, they often mention C-89 as a starting ground for a lot of records that turn into big hits." In Rolling Stone magazine's June 26, [1997] issue, the station was featured for its "tremendous hitmaking prowess." Higgins, Troy and Green - who headed C-89's student operations this school year - recently appeared on Fox News Network with Rolling Stone associated editor Eric Boehlert to chat about their success. And the San Francisco trade journal Gavin now factors in C-89's playlist when generating its Top 40 charts - something Dave Sholin, executive director of Gavin Radio Services, says is unprecedented for a noncommercial station. So what's their secret?
"I can't really explain how you pick a hit," Higgins said. "It just has a nice hook, and it's nothing that sounds the same."
"Yeah, but it can't be so different that it's weird," Green added.
Students voice their opinions on new songs to Jon McDaniel, a C-89 alumnus and the station's adult-music director, at weekly meetings, often basing preferences on listener requests. A record can get its first airing simply because a student believes in its potential and is able to persuade the rest of the shift crew to play it. For example, Troy sold McDaniel and other students on the U.K. single "Return to the Mack," by Mark Morrison. The station aired the song in November and subsequently was flooded with calls for Morrison's tune. Rich Christina, an Atlantic Records executive, said C-89 was the first in the Seattle market to play the song and started a demand in retail. This brought the single, released in the United States by Atlantic Records, to the attention of Top 40 commercial stations like KUBE, which aired the months later, he said. The record has since gone platinum, selling more than 1 million copies in all formats.
The students' freedom to follow their instincts, other music industry executives noted, is a key element in choosing the next dance hits.
"They're really passionate and into the music," said Harry Towers, vice president of promotions at New York-based Popular Records. "They're successful because they don't have someone telling them, 'You can't play that record because it's not getting played in Dalles or New York.'" Rolling Stone credits them with breaking national hits such as White Town's "Your Woman" and "Insomnia" by Faithless. Other hits these teens say they've been the first air in the Seattle market include Daft Punk's "Da Funk" and La Bouche's "Be My Lover" and "Sweet Dreams." But despite the station's growing reputation in the commercial world, its emphasis still is on education.
"What really made it for me at KNHC was my teachers' passion, said KUBE DJ Eric Powers, a Seattle radio personality who got his start at the station. "They just really took a lot of time and were detailed about how to be a good radio personality. They really brought me up and showed me the light of what good radio was." After its humble birth as a 10-watt station in 1971, C-89 gradually increased its signal strength to 30,000 watts in 1989, and now can be heard throughout the entire Puget Sound region. Founder Larry Adams says the station, boasting 60,000 listeners, is everything he had hoped for and more. "The whole thought was to develop something that would give youngsters in the city a chance to learn a skill and demonstrate their talents," said Adams, who retired as Nathan Hale's broadcast teacher in June. For all its professional sound and national reputation, C-89 is mostly manned by advanced radio students under the supervision of three salaried adults. During the summer, students volunteer for four-hour shifts, and an adult volunteer takes over in the evenings. The station's annual operating budget is approximately $200,000, with $130,000 coming from the Seattle School District and the rest brought in by underwriters and fund raising.
For Troy, Higgins and Green, radio has become a way of life. And Room 219, which houses C-89's dark, cavernous broadcast studios, has become their second home. Preferring the label "radio geeks," these teens agree that the intoxicating power of speaking to tens of thousands of people is what hooked them. "Remember doing the news for the first time," Green said, laughing and widening his mischievous blue eyes. "It's like, 'Oh, my gosh, my head is going to explode.'"
Shifting from his usual offbeat sarcasm, Troy commented that serving as C-89's student program director has taught him responsibility, leadership and teamwork. He plans to explore other career options when he begins at Western Washington University in the fall, figuring that college radio would be a step down from C-89 tightly run operation. Yet both Green and Higgins have found their calling in radio. Green, who will be a senior, says he will probably attend a two-year college and go into sound production. Higgins, who can be heard on C-89 two nights a weeks, just graduated. His goal is to become a DJ at a Top 40 commercial radio station. "This is not something I do for credit. It's something I love," said Higgins, running both hands over his bowl-cut hair. "I never knew what I wanted to be, until this."
Seattle PI - "C89.5 FM Dancing to its own beat"
"Nathan Hale student station known for its ability to catch a musical wave"
Reported by CECELIA GOODNOW, Seattle Post - Intelligence Reporter, published: Monday, November 1, 1999
If you think it's intimidating to give an oral report in class, imagine facing a microphone that will carry your words to 70,000 radio listeners from Everett to Tacoma.
"My first time on air was pretty scary, actually," says Esten Gose, 17, "because I was kind of afraid that I would screw something up, do something wrong."
Months later, he's holding down a weekly on-air shift and handling all the technical chores that go with being systems manager at a 30,000-watt radio station.
Yep, they move them up fast at KNHC-FM, better known as C89, home of "Seattle's hottest music."
That's because the station is run by Nathan Hale High School students who have just a short time to hone their professional skills before they're out the door, diplomas in hand. The station's state-of-the-art studios occupy Room 219 on the campus of the North Seattle school.
"It's not like a class, it's like a workplace," says program co-director Allison Reibel, a senior. "You're treated like an adult with adult responsibilities."
Known for its high-energy dance music, the 24-hour station also airs news, public-affairs programming, a Sunday afternoon gospel program and Sunday evening alternative music. The target audience is adults ages 18 to 34.
Quiet and serious-looking, with horn-rimmed glasses and blue nail polish, Allison displays an almost startling air of maturity and authority as she explains her duties at C89.
She and co-director Evan Snyder, also a senior, run the station meetings, schedule students for on-air shifts, critique performance tapes and decide when to promote students to a higher level of responsibility.
Allison also listens for that note of energy and enthusiasm the station's throbbing dance format demands.
"The hardest thing is sounding excited," says Allison, who passes on a professional tip: Smile when you speak and you'll sound more energized.
Not surprisingly, C89 is a fertile training ground for radio professionals who enter Seattle's commercial market.
"If it wasn't for them, I wouldn't be where I am now," says Eric Powers, 26, a C89 graduate who went on to become program director and afternoon DJ at KUBE-FM, one of the biggest stations in town.
After nearly 28 years of operation, KNHC has grown in wattage and power to become one of the most influential non-commercial stations in the country. It's known within the record industry for the ability to catch a musical wave before it hits the rest of the nation.
"We're in a position to take a few more risks," says Gregg Neilson, station manager and classroom teacher.
The station, which has been profiled in Rolling Stone and Teen People, is credited with breaking many hits over the years, including "Barbie Girl" by the Danish group Aqua, "Missing" by Everything But the Girl, "We Like to Party" by Vengaboys and "Return of the Mack" by Mark Morrison.
"Everybody in the record industry knows KNHC," says Joey Carvello, vice president for Top 40 promotions at Priority Records in New York. "They're what we call a breakout station. They're very well respected in the field."
Although there are some 50 high school radio stations in the nation, industry pros say C89 is unique in its highly polished professionalism and its clout within the music world.
"There's no other station in the country like this," says station consultant Jack Cyphers, a record promoter in New York who listens to the Seattle station's uptempo dance format by logging on to its Web site: www.c895fm.com
"It's like a commercial radio station," says Cyphers, vice president for promotions at Tommy Boy records, "but it's run by students."
KNHC is the only high school radio station in the country whose weekly play list is published in The Gavin Report, a 40-year-old trade publication based in San Francisco.
"That station has always demonstrated an extraordinary amount of musical passion," says Kevin Carter, Gavin's Top 40 editor.
Right now, C89's music and program director, 30-year-old Jon McDaniel, is hot on the song "Blue," by Eiffel 65. McDaniel, a 1987 graduate who's one of the few paid professionals at the station, decided to give it air time after noticing in Billboard's Hits of the World section that "Blue" was the top song in more than a dozen countries overseas.
McDaniel is widely credited as the brains behind the hit-seeking missile that C89 has become. A chunky guy with sleepy eyes and a deceptively laconic manner, he dresses like most of the kids here, in shorts, T-shirt, baseball cap and gold earring. Behind the casual demeanor, though, lies a savvy professional.
"KNHC certainly has Jon McDaniel's brand on it," Carvello says. "If Jon believes in a record, he'll give it more time to get established. (Sometimes) it has to be played a lot before there's a response."
McDaniel draws up the weekly play list based on his reading of industry trends, local sales, what's hot in the clubs, songs listeners request and tips the C89 students pass along.
He also talks it over with student music director Lauren Dixon.
Lauren, an easygoing junior with red hair, daisy fingernail decals and a washable tattoo, practically lives at the station. She's there from 2:30 to 8 p.m. most days and works an on-air shift on Wednesday evenings.
"I've always known that radio was what I wanted to do because I used to work for KidStar," says Lauren, who enrolled at Nathan Hale specifically because of its radio program.
KidStar, until its demise in 1997, broadcast educational and entertainment programming for preteens in Seattle and five other cities.
Lauren, who has managed to keep up a 3.5-grade-point average despite her long hours at the station, says it's easy to get an A in radio.
Easy, that is, "as long as you're committed, you have an open mind and you're willing to go the extra mile to get something done."
Ironically, C89 is better known within the music industry's corridors of power than in the corridors at Nathan Hale.
"At first, I didn't even know that the radio station was there," says Esten, a senior who joined the staff last year when he signed up for the advanced radio class.
Now, he says, "It turned out to be probably the best thing that ever happened to me. It's a lot of fun. It gives you pretty much something to look forward to every day."
Students work under the guidance of Neilson, McDaniel and Judy Rudow, a paraprofessional who has taught the advanced students for 12 years. This semester she has a class of 26, about a quarter of the total radio enrollment.
Before they can join the station, students must pass a one-semester introductory course that grounds them in the history of radio and the regulations that govern broadcasting.
Once they're at the station, advanced students work their way through three levels of competency before they become full-fledged on-air broadcasters.
"Some people wanted to jump on the air right away, but it's better to know what you're doing," says network co-director Adam Kogler, a junior.
Retired teacher Larry Adams, who founded the station and still supervises on Saturdays, says he reminds students that their job is to satisfy the market, not their own personal taste.
"While you may not embrace the music on C89," he tells them, "it does fit into a niche in the Seattle market."
The station has come a long way since 1971, when its 10-watt signal reached only a five-mile circle in north Seattle. Programming then was a sketchy mix of musical styles from folk to jazz, supplemented by student interviews with teachers.
Now it's so polished that Boise State University in Idaho grants 14 credits to KNHC graduates who enroll in a two-year broadcast technology program at Boise State's College of Engineering. The university also waives out-of-state tuition for those students.
Students at C89 also run the annual pledge drive, which raises a significant share of the station's $300,000 operating budget. Last year students raised more than $50,000, with the remainder of the budget covered by the Seattle school district and corporate underwriting.
Students hope to raise $60,000 during this year's on-air pledge drive, Nov. 14-21.
Whether they pursue radio careers or not, students at C89 learn universal skills -- how to work as a team, how to deal with the public and how to take responsibility and leadership.
Eric Powers at KUBE found C89 a good training ground because "it was one of those environments that allows you to make mistakes."
His own on-air debut is a good example. After successfully reading his first news report, he says, "I was so excited I was jumping around, screaming and yelling, 'I did it! I did it!'"
Only when he noticed instructor Rudow frantically signaling outside the studio window did he realize the mike was still on.
It was also at C89 that Powers adopted his on-air handle. Pseudonyms are common in the radio industry, partly to protect employees' privacy.
It's also kind of liberating to have a separate on-air persona, says a student who broadcasts under the name Kate Sharp. "I don't listen to this kind of music," she says, "but as Kate Sharp, I can get excited about it.
"And if you mess up," she adds, "it's like, it's not me, it's just Kate Sharp."
Scholastic - "Rock Around the Clock - Find out what's on the schedule of Seattle's hot teen-run radio station"
Reported by Matt Friedman, published: November 17, 1997
Seattle's KNHC-FM is in a class by itself: Room 219 of Nathan Hale High School, to be exact. From there, students in the school's advanced radio class crank up today's hottest music for 60,000 listeners a week.
Like professional radio stations, KNHC (also known as C-89.5) airs music countdowns, takes requests, produces its own ads, runs contests, and more. They're even known throughout the music industry for playing up-and-becoming dance hits before any other station in the nation.
How does it feel to rock the airwaves between history class and gym? We asked Tim Green, the 18-year-old music director for KNHC. "For me, radio is a break from the normal school day," Tim told MATH. "It's something I enjoy."
But running a radio station isn't all play. The students have to keep the radio station on a tight schedule, called an hour clock. The hour clock on page 15 shows when they need to air music and different announcements during each hour. "All of that material airs within one minute, give or take, of the time that's written," said the radio station's 17-year-old program director, Shirstie Schmidgall.
Rolling Stone- "Schoolhosue Rocks - KNHC is an influential 30,000-watt radio station in Seattle. It just happens to be run by teenagers"
Reported by Eric Boehlert, published June, 26 1997
First period is barely under way at Seattle's Nathan Hale High School, but class is already rocking in Room 219, home of the student-run radio station KNHC-FM. Two DJs in sweat shirts and baseball caps bound out of the studio, where a dance remix of the Cardigans' "Lovefool" booms from the speakers. Across the room, a lanky sophomore downloads headlines off the Associated Press wire in preparation for a newscast. Nearby, a harried classmate mans the station's incessantly ringing request line. It's an exercise in controlled chaos - and an educational experiment gone wonderfully right.
Commercial-free KNHC - or C-89, as it's known - boasts 60,000 weekly listeners. It's the largest and most influential of the roughly 50 high school radio stations licensed around the country. Whereas most of them rely on between 10 to 100 watts of power (enough for a radius of up to 15 miles), C-89 booms its feel-good dance music via 30,000 watts, covering a region that stretches from Tacoma, Wash., south of Seattle, to Everett, Wash., 60 miles to the north. No small feat for a crew of teenagers who still fret over homework assignments.
Unlike many just-for-fun high school stations, C-89 is a tightly run outfit whose slick presentation is virtually indistinguishable from those of its commercial competitors up the dial. If it wasn't for on-air fund-raisers and student-oriented public-service announcements - like a recent "Don't Ruin It by Doin' It" campaign advocating teen-sex abstinence - most listeners wouldn't know that C-89 broadcasts from a classroom.
In addition to student volunteers, five salaried employees oversee the station's operations. The Seattle school district pays 65 percent of KNHC's $200,000 annual budget, and the rest is covered by fund raising and underwriting.
Despite its educational base, most listeners know C-89 simply as Seattle's home for around-the-clock dance music. "It doesn't sound like a high school stations," says BMG Records sales rep Neil Hubbard. "It's too important and well run for high school." During the past three years, the station has become a national trendsetter, recently breaking hit singles including White Town's "Your Woman," Mark Morrison's "Return of the Mack" and Faithless' "Insomnia."
"I think [C-89 is] the most influential station in the country for this kind of music," says Harry Towers, vice president of promotions at the dance label Popular Records. "They're always first. Look at their playlist from one year ago, and you'll see records that are just now getting airplay all around the country.
" C-89's biggest success came early this year when the station became the first in the United States to add British R&B phenom Morrison's "Return of the Mack." "This is the guy," says Andrew Higgins, C-89's student director James Troy, who found a U.K. import of the song in a record-store bin. He then pitched it to Jon McDaniel, the station's 28-year-old paid program director, and within days "Mack" was among C-89's most requested songs.
"We played it in November, and then in January it started getting played all over the place," Higgins says with delight." "[Seattle's commercial Top 40 stations] KUBE's now playing it 80 times a week."
"These students understand music," adds station consultant Jack Cyphers. "When they go nuts about a record, they're usually right on the money."
It's hard to imagine C-89's tremendous hitmaking prowess as you walk through the brightly painted red, white and blue hallways at Nathan Hale, a 1,100-student multiracial campus where you will hear English, Chinese, Arabic and Russian spoken between classes. Each year, about 90 students enroll in radio classes, and, for some of them, C-89 becomes their way of life. Like sports jocks who live for the big game, C-89's radio jocks live for the next hit single.
"It was one hell of an experience," says Eric powers, the class of '91 student program director who parlayed his experience into a high-profile on-air job at KUBE. "I was there 24-7. They had to kick me out a few times.
" This year's C-89 inner circle includes junior Time Green, the station's student operations director, as well as Troy and Higgins. A three-year station veteran, Higgins recall the fear that gripped him his first time behind the mike: "I was so stressed out, I went to math class totally shaking." His anxiety is gone. Hooked on the thrill of broadcasting and blessed with a husky, booming voice, Higgins plans to pursue a radio career after graduation. "[Before C-89] I never knew what I wanted to do," he says. "Now I know."
Higgins isn't the only one who got more than class credits out of C-89. "I came into the program as a shy freshman," says Troy, who's still soft-spoken, except when he gets behind the C-89 studio doors. "To be on the radio, you have to be confident," adds Green, "and it's definitely given me confidence."
During school hours, the three friends spend their free periods camped out in Room 219, occasionally venturing out at lunch for a pickup game of ultimate Frisbee. On the weekends, when they're not scrounging around for new records, they're hanging out at Denny's, jawing about playlists, station promotions and, most important, hatching new chart stars. Currently, the trio is buzzing about the San Francisco club hit "I'm Gonna Luv U," by the Summer Junkies, as well as the acid-jazz-flavored sounds of Blue Boy's "Remember Me."
Back at Room 219, the C-89 crowd gears up for the freewheeling after school show. A substitute DJ is overseeing the daily Drive at 5 Non-Stop Music Mix because the jock, Allison Hill, won't be back from her varsity softball game in time. Just before show time, a lightning storm erupts, causing electrical outages around the city. As McDaniel barks instructions and students scramble to prepare the storm-threatened show, Higgins surveys the frantic scene with a smile. "I love this," he says. "I'm just afraid it may be the best radio job I ever have."
Gavin - "Signals & Detection"
"The Aqua story continues to build. First to break the, C-89FM-Seattle is still reporting Number One Phones."
TOP 40: AQUA: ALL SYSTEMS GO BY DAVE SHOLIN, published: August 1, 1997
Just when everyone thought we'd run out of subject matters for songs, along comes a rhythmic dance entry from Denmark about, of all people...Barbie!
When GAVIN CEO Dave Dalton returned from a recent trip to Hong Kong, he asked me to listen to an album by a group named Aqua. The song that immediately got my attention was "Barbie Girl," which was enjoying enormous chart success in several European countries. A few days later, Jon McDaniel, PD at C-89 (KNHC)-Seattle called to let us know that "Barbie Girl" was generating so many calls, it now holds the station record for most requests in a week. Not long after, Y100 (WHY)-Miami started spinning it. PD Rob Roberts began spreading the word.
There is plenty to recommend this one, including its energy and summertime appeal. Best of all, for Top 40, it's another song the format doesn't have to share with anyone else on the dial. And once it gets big enough, expect the media to have a field day considering the subject. Other than this foursome (Soren Rasted, Lene Nystrom, Rene Dif, and Claus Norreen) calling Denmark home, there's not a lot more background to provide at the moment. However, it appears the public doesn't really have to know much about the group to know they want to hear the song on the radio-and often. As Barbie sez, "It's fantastic."
Tuned - "High School DJs Rule at KUBE(FM)"
Reported by Bob Rusk, published: Oct, 1997
It is not unusual for small market radio stations to hire high school kids to work on the air. It is unusual, however, for major market stations - let alone top-rated ones - to do so. Enter KUBE(FM) in Seattle, a station that has been drawing from the high school talent pool for years and reaping the benefits: the CHR/rhythmic-formatted station consistently ranks as the most popular music outlet in town.
"Four of our last six hires have come straight out of KNHC(FM), the Nathan Hale High School station," says KUBE General Manager Michael O'Shea. He points out that Hale is known for its excellent radio program, one that obviously offers no commercial, major market experience. That is one reason program director Mike Tierney puts them on the air.
"Since they haven't worked at any other (commercial) stations, they don't have any bad habits," he says. "I found that what works is that you hire people who are smart first and foremost. Second, they need to be interested and motivated, if they are young enough, they'll pick up the radio skills by osmosis. We are not all 17 here."
While the kids start out doing weekends and overnights, some quickly move up. Hale High alumni Eric Powers, now 24, has been with KUBE full-time for about three years. At 20, he was given a nighttime shift; he now does afternoon drive (additionally, he handles assistant program director duties).
Thanks to the training they get KNHC, none of the young personalities have immture voices when they come to KUBE, says Tierney. "They sound young in all of the good ways," he says. "They have a hip, happening style. If you went to Antarctica for a year, you could trust them to tell you what you should be wearing and listening to when you came back. They sound like 20-something, fun people who are all about the lifestyle."
Even Tierney, 29, who has been at KUBE for three years, does not have a lot of call letters on his resume. Previously, he was music director at KPLZ(FM) in Seattle and before that he worked as a promotion assistant at WQHT(FM) in New York. He got his start at WJPZ-FM, while attending Syracuse University.
Seattle Weekly - "Best FM radio station for commuting"
by Seattle Weekly Critics, published July 20 thru 26, 2000
It's impressive that Seattle offers KNHC, or C 89.5 FM, a spicy little station that pumps out dance beats and house-diva vocals 24/7, 365 days a year. Oddly enough, this channel that plays everything from Donna Summers to Christina Aguilera remixes broadcast out of Nathan Hale High School-the first time I heard the station, I thought Neighbors bartenders and a group of drag queens had seized the airwaves. Thanks to these teens (and heir adult helpers), Seattle is a better (and slightly gayer) place, with a dance radio listenership of 60,000. The DJs aren't too shabby, either, especially DJ Victor Menegaux. Tearing up the turntables on the "Drive at 5" every weekday, Menegaux possesses a talent for blending together such diverse acts as Destiny's Child, Groove Armada, Jennifer Lopez, and Basement Jaxx to create one head-boppin' booty-movin' dance music experience that's perfect on the Walkman or in the traffic jam as you inch your way home.
Village Voice: "Best of New York 2003: best high school radio station"
Reported by Josh Goldfein, published forth quarter 2003
So what if C89.5 is staffed by students at Seattle's Nathan Hale High School? A station that broadcasts hi-NRG disco all day, punctuated by the occasional goth specialty show, is automatically the best in New York, especially if it webcasts. Set your browser to c895fm.com, crank up the tinny speakers, and send them a few bucks; they're nonprofit.
Jobs
For information on openings at C89.5, visit our
Jobs Page
.