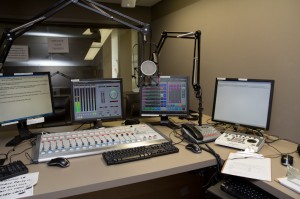 Dance, dance, dance! Award-winning C-89.5 has been Seattle's Home for Dance for over 45 years.
Owned by Seattle Public Schools, C-89.5 is operated by professional staff and students of Nathan Hale High School's electronic media course, who gain experience in production, programming, on-air presentation, and music selection. Some programs are hosted by alumni and community volunteers.
C89-5 serves over 200,000 weekly listeners in the Puget Sound region, and is supported by listeners and local businesses.
Our website, C895.org, has a diverse, global audience. C89-5 Worldwide is a leader in dance music, monitored by BDS and MediaBase, and is one of eight stations tracked for the Billboard Dance chart.
C-89.5 has won numerous awards and is recognized as an influential radio station on the cutting-edge of music as well as a premier high school broadcast facility. We were recently listed in Billboard's Top 40 of Top 40, a huge honor and testament to our staff and student's hard work and dedication to C89-5 Worldwide.
History
In December 1969, KNHC went on the air at 100 milliwatts at 1210 AM. Through the 1970s and 80s, the station increased its broadcast area. In the 1990s KNHC renovated its studio and production facilities, began a student training program, launched its first website, and in 1997 began operating an digital music stream from every one of its studios.
In 2003, The Village Voice recognized KNHC as "Best of New York" high school radio stations thanks to its internet streaming, and the next year became the first non-commercial station in the United States to join the Billboard Magazine Dance Radio Airplay panel. In 2009, KNHC moved into its studio at Nathan Hale High School.
In 2015, KNHC received it's first Community Service Grant from the Corporation For Public Broadcasting. Our current Local Content and Services Report is here.
Since then, the station has continued to improve its transmission, its website, and its digital services—and to play the best dance music!