With all the big acts coming to town next week, this might be a great weekend to get your local music fix.
Brandon Lentz
Sunday the 28th at Columbia City Theater (4916 Rainier Ave S) is the Washington Solo Artist Awards showcase,  featuring a selection of artists who primarily work on a solo basis in the PNW. They span many different genres, but I know at least one is from the local dance music scene. Brandon Lentz is set to perform—we've played him on the Drive-at-Five and OneTwo, and I had the opportunity to see him live on stage at pride. Brandon has excellent stage presence, with a glam-goth presentation reminiscent of a combination of everything I liked in 1991. More info on the Facebook event page at https://www.facebook.com/events/1804977796402002 . Doors at 6.
Bad Kid Billy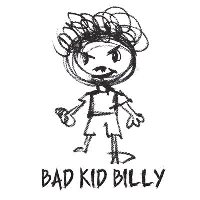 Also, Sunday the 28th at the Tractor Tavern (5213 Ballard Ave NW) is the first ever show by Bad Kid Billy. Bad Kid Billy consists of 2 local guys who teamed up with 2 other local guys (Robot Jox) to create a track called "Bonfire Dream" that you may have heard on the Drive-at-Five or OneTwo. I've had the chance to talk to Matt, who we hear on vocals from Bad Kid Billy. He is a super cool cat that is all about Seattle. There are even some Seattle geographic references in "Bonfire Dream". I absolutely love the track, and I think I actually wore the CD out. BKB has a Facebook event page at https://www.facebook.com/events/1742840635951280/ . Doors at 7:30—they go on around 8.